Minister for Local Government, Industry, and Trade, Premila Kumar says Town and City Councils have devised strategies to collect outstanding rates and will no longer be lenient with those residents who expect to receive services without paying their share.
While speaking in Parliament, Kumar revealed that to date, over 450 families in five settlements have received long term land tenure in the form of 99-year leases as the first step to meeting their housing needs through the Informal Settlement Upgrade and Formalization Program.
She says work is progressing in another nine settlements from which over 1,200 households will benefit.
Kumar further states the Ministry has secured 41 development leases from the iTaukei Land Trust Board for that program and over $3 million dollars has been paid as lease premium, and landowners will continue to receive annual lease rental fees after the development projects are completed.
The Minister revealed the Government is working with the International Finance Corporation to assist in the design and implementation of housing projects under the public-private partnership arrangement.
She says sites in Davuilevu, Nepani, Wainibuku, Raiwaqa, Tavakubu, and Tavua in Central and Western Divisions have been selected with due diligence to develop green and climate-resilient housing units for low to middle-income households in Fiji with private sector participation.
Kumar says the 2019/2020 budget also proposes several tax concessions to those from the private sector investing in residential housing.
She also says over the last 5 years, 2,321 Fijians have benefited from the First Home Initiative adding interest in homeownership reflects the confidence of the public and financial sector in the economy.
She further adds there are unscrupulous slumlords who charge excessive rent and opportunists who try to take advantage of Government's programs to grab land from those in genuine need.
She says a stronger and fairer policy and regulatory framework will address this adding a review of housing policies and related programs that have begun in collaboration with a Housing Policy Advisor from New Zealand.
The Minister adds in addition, both the Housing Authority and the Public Rental Board will be restructured to improve service delivery.
Kumar also hit out at Opposition Leader, Sitiveni Rabuka and Opposition Whip, Lynda Tabuya saying they have paid no heed to the President's call for not treating the economy as a political football.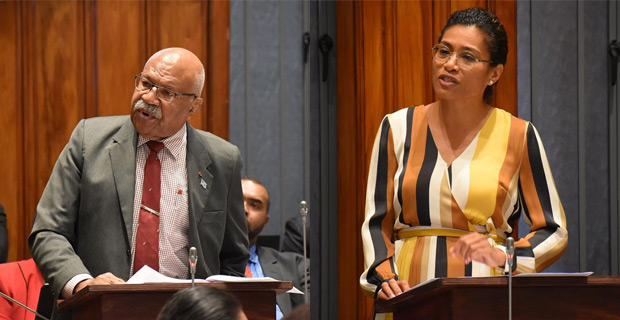 Kumar says all that happens from such point-scoring is actually undermining the economy from within.
She adds there have been frequent attempts to vehemently oppose everything that the Government has initiated or done for the advancement of the Fijians and Fiji.
Kumar says the rhetoric that deafens their ears has been that the Government's numerous initiatives have been called reckless spending by the opposition.
The Minister adds unfortunately, some members of the opposition are so entrenched in politics that they oppose everything that the Government is doing, not based on substance, but because it comes from this Government.
She revealed that tourism arrivals have increased by 4 percent in the nine months this year, compared to the same period last year adding earnings from tourism in the first half of this year increased by approximately 7 percent compared to the same period last year.
Despite political differences, we can all agree that our nation must have a strong economy with plentiful opportunities for all.