Discussions about the need for a strong collaborative approach to be taken to address domestic violence and violence against women and girls in Fiji and the Pacific stood out during the television discussion program - ABC's Q&A at USP's Japan ICT at the Laucala campus last night.
Speaking on Q&A, Panelist Virisila Buadromo who is the Co-lead of the Urgent Action Fund for Women's Human Rights Asia and the Pacific says the question is what can we do together to try and combat this issue because it is not just about women's rights organisations and feminists but its all of us as a community, as a family and what each of us are going to do to eradicate this epidemic.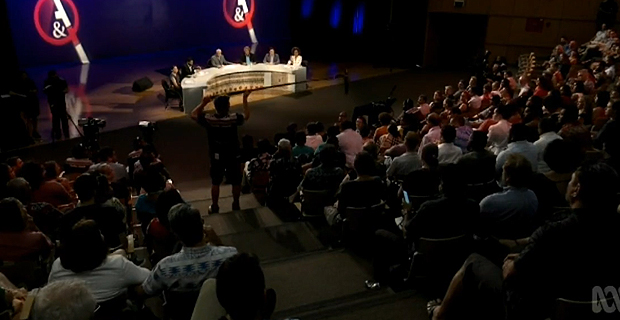 She says if you look at the region it has the worst statistics in terms of violence against women globally, the lowest number of women in parliament and the region is also at the forefront of climate change.
Buadromo says when you put all those things together it means women and girls in the region are one of the most vulnerable people in the world and the question is not what she is going to do about it but what are our governments and each of us as individuals are going to do about it.
Acting Prime Minister Aiyaz Sayed-Khaiyum then quoted Prime Minister Voreqe Bainimarama who said this culture of what we call the Buturaki - the beating is deeply ingrained in parts of the Fijian psyche but is simply not acceptable in the modern age.
He says Buturaki is basically the culture of beating up people and it was seen as acceptable by people.
Sayed-Khaiyum says Prime Minister Voreqe Bainimarama is the first Prime Minister that has actually come out openly and said that this culture does exist.
He says the reality is that people have to be able to talk about these things openly in the public space.
Sayed-Khaiyum says he completely agrees with Buadromo that there needs to be a collaborative approach.
He says it's not only about politicians, but its also about faith-based organisations, non-governmental organisations, schools, universities and governments in parliament.
Sayed-Khaiyum says the reality of the matter is that there are quite a few things that have changed in Fiji.
As Sayed-Khaiyum continued talking he was interjected by Buadromo.
Buadromo went on to say that there is this psyche that exists in Fiji that violence is okay and that psyche is perpetuated by the government and the Prime Minister.
She said what she wants to know and what everybody wants to know is what is being done to stop the "Buturaki Culture" before people go to prison.
In response to Buadromo, the Acting Prime Minister said the reality of the matter is that people need to be able to be educated and there needs to be a culture of removing the culture of Buturaki.
Sayed-Khaiyum says, of course, he accepts that Buturaki is not only about men bashing up women, it can be men bashing up men but again people have to look at whether those people who were violated and assaulted have been able to go through a legal system to get redress.
Other panelists were Australia's Minister for International Development and the Pacific Alex Hawke, former Prime Minister of Tuvalu Enele Sopoaga and the Director-General of the Pacific Islands Forum Fisheries Agency Manu Tupou-Roosen.