Supervisor of Elections, Mohammed Saneem says it appears that the National Federation Party continues to have misunderstandings about the 2018 General Election results while the NFP Leader, Professor Biman Prasad claims that Saneem is biased and everyone should understand that the government has a 2 seat majority in parliament.
Professor Prasad says the Supervisor of Elections has compromised the independence and impartiality of the Elections Office by making political comments and is becoming a FijiFirst mouthpiece.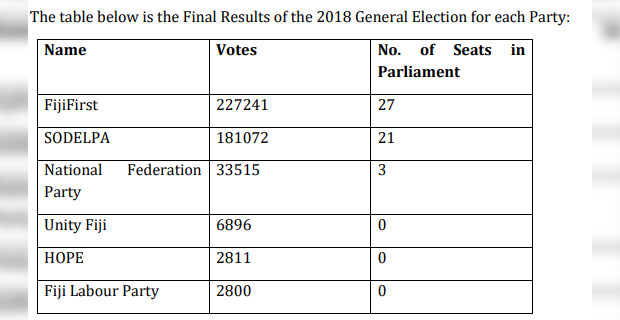 Prasad says while making submissions before the parliamentary standing committee, Saneem not only made political statements but also made the Electoral Commission subservient to his office.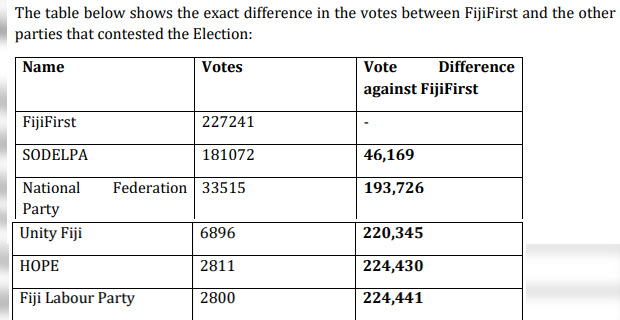 He says by announcing that a decision on the number of seats to be contested in the next elections will be made in 2021, Saneem has usurped the role of the Electoral Commission, which is the only authority mandated under the 2013 Constitution to make such a determination.
Prasad adds that Saneem's five-year term ended on 28th March 2019 and he hasn't been re-appointed to the substantive position by the Constitutional Offices Commission and is therefore an acting Supervisor of Elections, not the Supervisor.
Saneem says the pure calculation of numbers as produced by the Fijian Elections Office demonstrates that the statements he has made to the Parliamentary Standing Committee on Justice, Law and Human Rights are correct.
He stresses that none of the parties that contested the general election are 137 votes close to FijiFirst but in fact the closest party is 46,169 votes behind FijiFirst.
Saneem says according to the final results of the 2018 general elections, FijiFirst got 46,169 votes more than SODELPA and the ruling party got 193,726 votes more than the National Federation Party.
Saneem says one must note that he provided the clarification after it was raised by SODELPA parliamentarian, Mosese Bulitavu.
He says NFP requires at least 26 votes to defeat or win a motion in Parliament and it fails to demonstrate in its statement how they are 137 votes behind FijiFirst.
Saneem says under section 54 of the Constitution, the Electoral Commission is responsible for determining the total number of seats in Parliament before a General Election. He says this is exactly what was conveyed to the Committee.
Saneem says simple mathematics dictates that such determination would be made in 2021 and this is exactly what was conveyed to the Committee. He says Prasad's claim that the Supervisor of Elections would make such a determination is unfounded.
He also says that Biman Prasad should seek direct clarification from his office or the Constitutional Offices Commission on his position at the Fijian Elections Office, and perhaps Prasad will then issue a correction statement.