SODELPA MP, Ro Teimumu Kepa who is also the Marama Na Roko Tui Dreketi has revealed in parliament that the 5-year rice planting contract signed between Rewa and Grace Road was mutually terminated earlier this year.
Ro Teimumu stresses that Rewa has nothing more to do with Grace Road.
She says she agrees with sentiments expressed from the opposition side on the Grace Road issue.
The Fijian Government has said in a statement that it could not respond directly to an edited video clip within the Al-Jazeera documentary on Grace Road which was played in the Korean language.
The government says certain matters in relation to Grace Road Church are currently being handled by the Ministry of Employment and Police, and we must allow due process to take its course without the interference of government comment.
There were allegations made in the documentary that some Grace Road Church leaders were assaulting some of its members, people being forced to work long hours while a Fijian man also claimed that he was injured while working for Grace Road and when he returned to work he was fired as the pain was unbearable.
There were also English translations of Grace Road Church Leader, Shin Ok-ju saying in an earlier sermon in the Korean language which said that even though Fijians are their servants according to their bible, Fijians are not very smart.
She also said that they plan to get into politics, and will conquer, govern and rule.
Grace Road has released a statement to say that they never termed Fijians as their servants and the sermon video in the documentary was altered.
They say in the statement that everyone is a servant of God. Grace Road has also uploaded the original video and edited video.
The government says they can point to adherence to electoral law to clarify that only Fijian citizens and no other national can be elected to Parliament, so any notion otherwise is unfounded and irresponsible fear-mongering at its worst.
The government further adds again in adherence to the law, it is vital that Government separate religion from business adding they cannot uproot private businesses owned by members of any faith-based organization on their words, actions or teachings; to do so would be a gross violation of the Fijian Constitution.
It further says Fiji has adhered to international law as the government cooperated with South Korean counterparts in past investigations, and will continue to do so moving forward to investigate any allegations of breaches of the law.
They say any allegations of breaches of Fijian laws and workplace rules and regulations will be met with appropriate action to protect the well-being of the Fijian people and those residing in Fiji.
Meanwhile, the founder of Grace Road Shin Ok-ju who the BBC described as the leader of the South Korean doomsday cult, has been sentenced to six years in jail for holding her followers captive in Fiji and subjecting them to violence.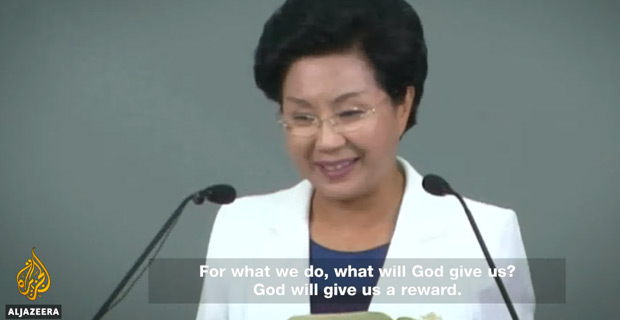 Following her sentencing, it was reported that Shin Ok-ju, who founded the Grace Road Church, convinced 400 people to move to Fiji in 2014, claiming they would be safe from imminent natural disaster.
Once here, their passports were taken away and many of them reported being beaten to "drive out evil spirits".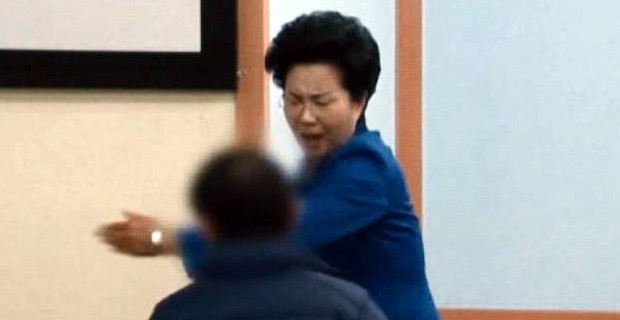 A screenshot taken from an SBS documentary shows Ms. Shin slapping one of her congregants [Photo:BBC]
Shin was arrested last July.
In July this year, a South Korean court found Shin guilty on several criminal charges including violence, child abuse and fraud.
A sub-court of the Suwon District Court said the victims suffered helplessly from collective beatings and experienced not only physical torture but also severe fear and considerable mental shock.
The court said that heavy punishment is inevitable against illegal acts carried out in the name of religion.
Five other church officials were also sentenced.