NFP and FLP leaders speak out on use of Fiji Hindi while FBC CEO says issue should not be politicised
By
Vijay Narayan and Rashika Kumar
Wednesday 12/02/2020
NFP Leader Professor Biman Prasad, FLP Leader Mahendra Chaudhry and FBC CEO Riyaz Sayed-Khaiyum
National Federation Party Leader Professor Biman Prasad says he agrees with Prime Minister Voreqe Bainimarama that schools run by Hindu organisations should teach formal Hindi even if they speak Fiji Hindi.
He says that for over a hundred years, Hindi has survived in the country because it has always been taught in primary school and anyone who understands that would not want to dilute the teaching of the language in any way.
He adds that if Mirchi FM wants to continue to defy the listeners who have expressed their views against the use of Fiji Hindi and Fijian Broadcasting Corporation which is funded by the taxpayers, wants to ignore the overwhelming opinion of people then they would be swimming against the tide and they can drown themselves there.
Meanwhile, Fiji Labour Party Leader Mahendra Chaudhry has condemned Mirchi FM's stubborn determination to continue to use Fiji Hindi as the medium of its programs despite widespread opposition from the Hindi speaking people of Fiji.
Chaudhry says FBC is funded by the ratepayers and it has the responsibility to take on board public sentiment and they cannot simply ignore how people feel about such policies.
He says that he is not impressed with any justification given so far by Mirchi FM in its defence of this position.
He also says what Mirchi FM is doing is effectively, and it seems now, deliberately setting out to dilute the Indian culture.
Chaudhry adds language is an integral part of ones culture and traditions.
He says that as a medium of expression, proper Hindi is essential for an understanding of religion, religious texts and practices and of Hindi literature writings and the arts.
The FLP leader says Indians in Fiji are daily exposed to the use of proper Hindi through Indian movies, television and serials, news telecasts, the reading of Hindu religious texts and religious practices and it is not a foreign or strange language.
He adds to take Mirchi FM's argument to its natural conclusion, is it now also going to use the corrupted form of English used in Fiji. Chaudhry also adds that on the same token, a lot of people in Fiji do not speak the Queen's English, they instead speak a Fiji version mixed with bits of both the local vernacular.
He also says that one would expect FBC to stop discriminating and start using Fiji English in its radio stations.
Fijian Broadcasting Corporation has stressed that they will continue broadcasting in Fiji Hindi on their station, Mirchi FM as that is what their listeners understand, want and enjoy while opponents of the change, the Hindi Parishad says they will decide on their next step after their meeting.
Although calls have been made by the Parishad for the radio station to stop broadcasting in Fiji Hindi and to use formal standard Hindi, FBC CEO Riyaz Sayed-Khaiyum says they were experimenting with Fiji Hindi on the station more than a year ago and not a single complaint was received from people or any political party or organisation.
Sayed-Khaiyum says only when Mirchi FM officially announced that it was using Fiji Hindi on that station alone that the politicisation of this issue was kicked off with great gusto by the usual suspects with the sensitive and impassioned subject of religion unashamedly being roped in for communal and political gain.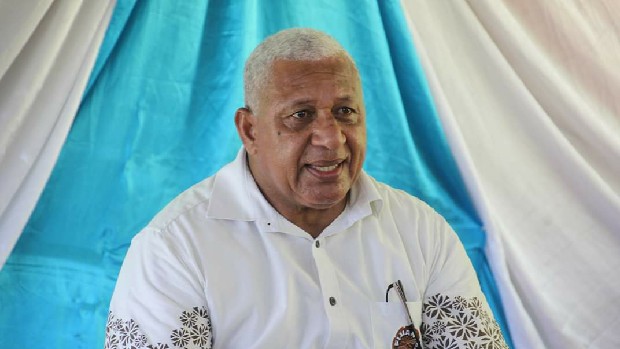 FBC CEO Riyaz Sayed-Khaiyum says the decision to switch to Fiji Hindi on one of their radio stations has been done at the behest of their listeners, and those complaining are not Mirchi demographic listeners.
He also says it is nonsensical to associate language and religion.
The Secretary of the Hindi Parishad Fiji, Jainan Prasad says they are raising serious concerns about Fiji Hindi being spoken on Mirchi FM as their primary market is the youth.
He also says that they want the youth to learn and speak formal Hindi and not get influenced by Fiji Hindi spoken on the station.
Meanwhile, Prime Minister Voreqe Bainimarama has made it clear that the government is not and will not force any Hindu organisation-run school to teach Fiji Hindi to their students.
Hindu organisations like Sanatan Dharam Pratinidhi Sabha and TISI Sangam have told the media that they will oppose moves by the government for conversational Fiji Hindi to be taught in schools because it is a broken language.
However, Bainimarama stressed to Fijivillage that as the head of the government, he wants to make it clear that these schools will not be forced into doing this.
Bainimarama says the schools owned by Hindu organisations can teach whatever Hindi they prefer.
The Prime Minister says that he also agrees these Hindu organisations should teach formal Hindi even if they speak Fiji Hindi.
ADVERTISEMENT
Listen to the latest news on our 5 radio stations Legend FM, Viti FM, Radio Sargam, FM96 and Navtarang.
ADVERTISEMENT
Los Angeles 7s
Tuesday 25/02/2020
States in UN Human Rights Council make recommendations for Fiji
Sunday 23/02/2020