The Fiji Human Rights and Anti-Discrimination Commission has confirmed acts of excessive use of force during the arrest and assault of the man in Navua in the course of the Police interrogation of the suspect and the Commission is calling on the Fiji Police Force to hold these officers to account and send a very clear message to everyone that no one is above the law.
In a statement after the conclusion of the commission's investigation, Commission Director, Ashwin Raj says the excessive force resulted in 15% superficial scalding burns on the suspect's back and arms.
Raj says the suspect also sustained fractures on his ribs and a hairline fracture on his right ankle.
The Commission further found that the Police officers who perpetuated these acts of violence also made efforts to cover up their actions.
Raj says the Commission has concluded its investigations into allegations of cruel and degrading treatment of the man by police officers at Navua Police Station as reported on the 15th of November 2019.
He says the Commission conducted investigations on its own motion into these allegations on the same day.
Raj says the actions of these police officers constitute an infraction of the constitutional right to be free from cruel and degrading treatment.
Section 11(1) of the Fijian Constitution states that "every person has the right to freedom from torture of any kind, whether physical, mental or emotional, and from cruel, inhuman, degrading or disproportionally severe treatment or punishment".
Raj says furthermore, the available evidence including medical records, victim, and witness statements as well as an interview with concerned police officers suggests that the actions of the police officers at the Pacific Habour Police Post were clearly in breach of the provisions of the Criminal Procedures Act and the Crimes Act.
The Commission will submit its full report to the Fiji Police Force and lodge a formal complaint of assault causing actual bodily harm and the use of excessive force in circumstances of the arrest.
The Human Rights and Anti-Discrimination Commission Act also entitles victims of human rights violations to seek remedies for the interdiction of his or her constitutional rights and in this instance, the victim has given his consent to the Commission to institute appropriate proceedings on his behalf.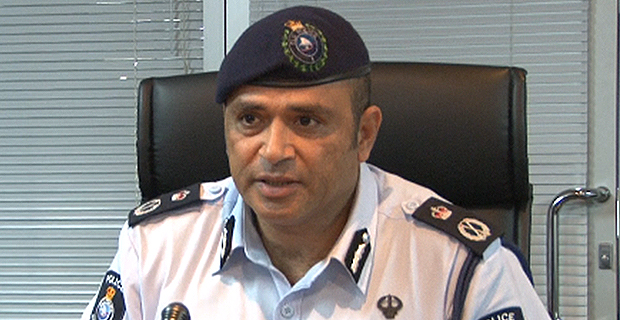 Police investigators looking into the case of alleged police brutality in Navua last Monday have been given a deadline until this Friday by Police Commissioner Sitiveni Qiliho who is personally overseeing investigations.
The man who was arrested from his home in Navua last Monday morning claims that police officers allegedly poured hot water on him during the questioning process.