A Tropical Cyclone Alert is now in force for Rotuma, and based on current assessments by the Nadi Weather Office the system is expected to intensify into a cyclone and the centre is expected to pass over Vanua Levu by this Friday.
The Tropical Disturbance is located about 900 kilometres West of Rotuma.
It is moving at a speed of about 6 kilometres per hour, and is expected to gradually intensify into a Tropical Depression by 12am tomorrow and expected to further intensify into a category 1 cyclone by tomorrow night.
People are expected to experience strong winds and getting to damaging winds from tomorrow.
Also expect continuous heavy rain, flash flooding and sea flooding.
Based on the current tropical cyclone forecast track, the tropical cyclone could make landfall over Vanua Levu on Friday and people should start feeling the effects of the cyclone by tomorrow.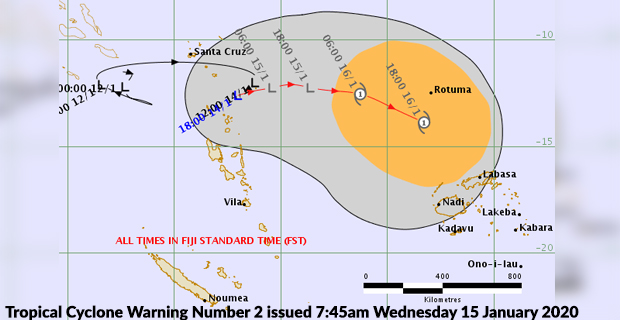 A heavy rain alert is now in force for Viti Levu, Vanua Levu, Taveuni and nearby smaller islands, Yasawa, Mamanuca, Lomaiviti and Northern Lau Group.
The associated active rainbands with the system are expected to start affecting Fiji from later today.
The Weather Office says once named, it will be called Tropical Cyclone Tino.
Stay with us for developments.