Curriculum designed to dispel traditional gender norms, not entrench them - Education Ministry
By
Vijay Narayan
Friday 24/01/2020
Parents raised concerns about the Year 8 Healthy Living Workbook promoting gender inequality and stereotyping
The Ministry of Education says a half-page section of a Year 8 healthy living textbook covering harmful gender stereotypes was recently cherry-picked by the media to unfairly question the Ministry's commitment to gender equality.
The Ministry says taken in proper context, the lesson in question was part of a larger curriculum designed to dispel traditional gender norms, not entrench them.
It says the same lesson goes on to instruct students that gender beliefs and stereotypes are not static, but rather can be changed.
The Ministry of Education says it is wholly committed to uprooting traditional gender-norms and empowering Fijian girls and boys to pursue any professional interest of their choosing.
It says it fully recognises that gender inequality and sexual violence are longstanding plagues on Fijian society.
The Education Ministry says they do not tolerate notions of gender inferiority in Fijian classrooms.
They also says they do not tolerate mentalities that stoke gender-based violence.
The Ministry says policies such as free education, free textbooks and subsidised transportation to school have all led to record numbers of Fijian girls enrolled in school.
They say additionally, there is a robust curriculum within the Fijian education system designed to promote gender equality and prevent gender-based violence.
Among many examples, in the year 9 social science students are afforded the opportunity to analyse the Fiji Women's Crisis Centre as a case study and Year 10 students study the role of the United Nations in promoting the rights of children and women.
The Ministry of Education is now on board with the Ministry of Women, Ministry of Health and the Ministry of Youth to develop a National Action Plan to Prevent Violence Against Women and Girls. During a press conference to mark this initiative, the Minister for Education pledged that her Ministry will implement more progressive gender-sensitive curriculum in schools at all levels.
The Ministry says it remains willing to engage constructively with subject-matter experts and development partners in improving educational curriculum to better promote gender equality and combat gender-based violence.
However they say, baseless, out-of-context critiques serve no one, particularly on an issue as important as gender equality.
Year 8 Health Living students workbook under the spotlight
Some parents have raised concerns about what is being taught in our schools after revelations that a Year 8 Healthy Living Workbook is promoting gender inequality and stereotyping.
However, some mothers have said that they are surprised and disgusted with what is being taught to their sons and daughters in schools, and the book does not clearly say that the gender image and expectations stated in the workbook are not right.
More people have started to raise concerns about this after a local activist, Roshika Deo said her attention was drawn to the student's workbook when she was helping prepare her niece for the school year.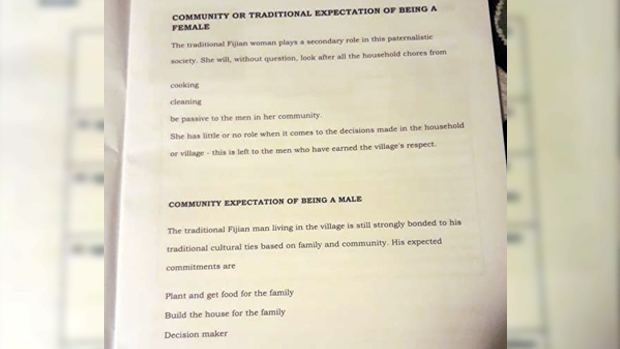 Deo told Radio NZ that she was shocked at the "community expectations" that were contained in the book.
The book which is also loaded on the Ministry of Education as a Year 8 Healthy Living textbook says women play a secondary role in this paternalistic society and women are expected to be passive to men while not being too outspoken.
It says that a Fijian woman, without question, is expected to look after all household chores from cooking to cleaning and she has little or no role when it comes to decisions made in the household or village.
It says that this decision making is left to the men who have earned the village's respect.
It also says that girls are expected not to be too outspoken at 5 years of age, be interested in their looks at 15 and be married soon.
There was an onus to take care of domestic duties and stay at home in adulthood.
The book says that boys at 5 years of age are expected to show toughness, not to show emotion at 10 years, help provide income for family at 15 years and provide for family in adulthood.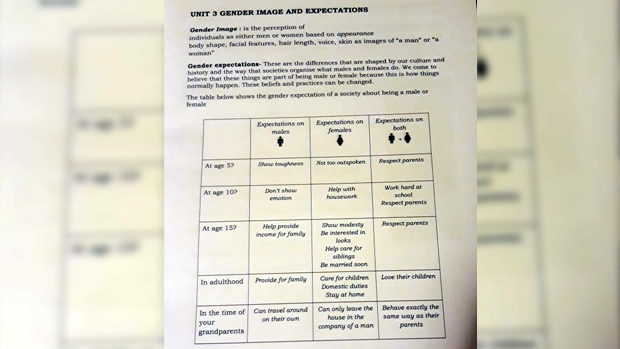 The book says that boys at 5 years of age are expected to show toughness, not to show emotion at 10 years, help provide income for family at 15 years and provide for family in adulthood.
The concern arising is that this workbook does not clearly state that such gender expectations and images are wrong.
Calls are being made for the book to be reviewed and removed.
Deo says young children are being taught that women are sub-standard and sub-human in Fijian schools.
Deo has welcomed a number of initiatives the government had launched to address the prevalence of violence against women and girls in the country but is surprised the Healthy Living material is part of the school curriculum.
It was announced last week that a 5 year National Action Plan is being undertaken to prevent violence against women and girls.
Minister for Education, Rosy Akbar had said that it is critical to better address gender inequality in our education system. Akbar had said that Fiji will have a gender sensitized curriculum.
Akbar had also made a pledge as the Minister for Education.
Fijivillage is awaiting comments from the Minister for Education and Minister for Women. Stay with us for that.
ADVERTISEMENT
Listen to the latest news on our 5 radio stations Legend FM, Viti FM, Radio Sargam, FM96 and Navtarang.
ADVERTISEMENT
Los Angeles 7s
Saturday 22/02/2020
Sigatoka River saga
Thursday 20/02/2020