There has been a significant flow of misinformation on Fiji's bank liquidity situation - AG
By
Vijay Narayan
Monday 11/03/2019
Minister for Economy Aiyaz Sayed-Khaiyum
Minister for Economy Aiyaz Sayed-Khaiyum says there has been a significant flow of misinformation on Fiji's bank liquidity situation, and the record needs to be corrected.
Speaking to people during the Facebook 2019/2020 National Budget consultations, Sayed-Khaiyum says the bottom line is that Fiji's liquidity position is more than able to support the continued growth of the Fijian economy.
He says SODELPA MP, Lynda Tabuya recently made some false public statements on the issue, claiming that liquidity rates in Fiji are low. Sayed-Khaiyum says this may be particularly confusing, as in recent years members of her own party have taken the opposite stance; the former shadow Minister of Economy actually complained when bank liquidity was too high.
The Minister for Economy says casually throwing around words like "crisis" when none exists – and in fact, the opposite is true – is hugely irresponsible, and a disservice to all Fijians.
Sayed-Khaiyum says as at 5th March 2019, the level of bank liquidity in Fiji was $317.2 million.
He says the level of bank liquidity during the entire tenure of the SVT Government, led by then‑Prime Minister Sitiveni Rabuka averaged just $25.1 million. Sayed-Khaiyum says that's less than 8% of current totals. He also highlighted that the levels even dipped as dangerously low as $0.5 million in February 1995.
The Minister for Economy says this means bank liquidity in Fiji today is more than 1,100% higher than the average under the SVT Government.
Sayed-Khaiyum says the recent 0.5% rise in the interest rate in Fiji is a reflection of our growing economy. He says that Tabuya's suggestions that a small increase in interest rates is a sign of economic weakness is, again, wholly ignorant to market realities.
He says interest rates must be carefully determined to strike a balance that encourages growth while dampening inflation pressures.
Sayed-Khaiyum also says that by contrast, interest rates under previous Fijian governments were much higher, making borrowing much more expensive.
He says Lynda Tabuya should retract her statement and issue an apology to the Fijian people for her feeble attempt at sparking economic uncertainty and trying to undermine the unprecedented nine years of growth of the Fijian economy. Sayed-Khaiyum says nobody's 15 seconds of television fame should come at the expense of our fellow Fijians.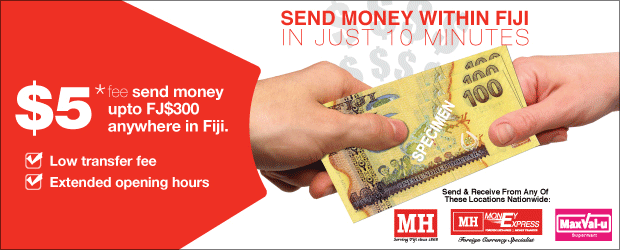 ADVERTISEMENT
Listen to the latest news on our 5 radio stations Legend FM, Viti FM, Radio Sargam, FM96 and Navtarang.